Lovely Summer Days musical ticket - Szép nyári nap musical jegyek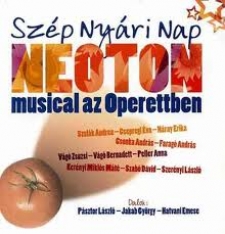 Venue: Budapesti Operettszínház
Date: Folyamatosan
Lovely Summer Days musical - Szép Nyári nap musical
One of the most successful bands of the seventies and eighties: Neoton, is now known as the Hungarian Abba. Not because of the band members, but their songs: Neoton's hits gained success in Hungary and on an international level as well. It's easy to see why these songs served as a superb basis to the latest show of Budapest Operetta Theatre and Pentaton: Lovely Summer Days - The Neoton Musical from the 15th of July, 2009 on Budapest Broadway!

On a hot day of July in the early seventies, the characters of the musical are all travelling to a summer camp, where they hope to find fun, freedom and love. Sure, they wake up early every day, there are even daily exercises, and they have to work in a tomato canning factory from time to time: but mostly they are just having fun, singing, dancing, and falling in love. However, the owner of the factory, and the leader of the camp, Tóth Antal, and his assistant, Ms. Panni, the Russian teacher, are always keep an eye on the youngsters. But the latter gets into a heavy situation, for her daughter falls in love with a just graduated future sociologist, Varga Péter, whose father defected after '56, and who appears to be a reckless young man himself. The rest of the campers are all support the young couple though, because they want one thing and one thing only: a summer they will never forget! They are fighting, getting together again, falling in love, but most of all, they sing and dance to the greatest Neoton hits. Twenty years after the political change, Lovely Summer Days is a real retro party!

Neoton's songs are still hits until today, so it's no wonder that they are now serving as a basis for a musical. The band members all embraced the idea to base a musical on the songs of Pásztor László, Jakab György and Hatvani Emese. The story was written by Böhm György and Korcsmáros György; artistic leader and dramaturge: KERO®; choreographer: Duda Éva. Directed by Somogyi Szilárd.