Miss Saigon musical - Jegyek -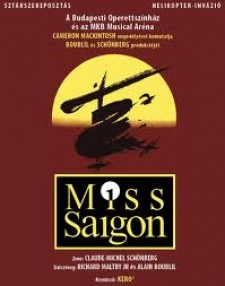 Venue: Budapesti Operettszínház
Date: 2012-től folyamatosan
An all-star cast in Claude-Michel Schönberg's legendary musical, Miss Saigon.

"The musical, which is now a legend" - wrote Newsweek in 1989, a few weeks after the premiere of Miss Saigon. And they were right, for the musical of Claude-Michel Schönberg has really became one of the most popular musicals all around the world. "Musicals come and go, but this one is here to stay" - wrote The Sunday Times, and they weren't wrong either, since Miss Saigon is the 10th longest running musical in musical theatre history.

Its premiere in 1994 was one of the most important events in the Hungarian history of the genre - Gábor Kerényi Miklós-KERO® directed the musical in Szeged Open Air and in the Budapest Operetta and Musical Theatre.

It became a major hit soon and gained a cult status among the most famous musicals. 17 years ago, the copyrights holder, Cameron Mackintosh named KERO®'s Miss Saigon the best he had ever seen.

Hungary's two leading musical actors will be featured in the production: Chris, the American soldier will be played by Attila Dolhai, while his good friend, John is presented by Pál Feke. This is the first time these two great actors will play on the same stage together!

Miss Saigon, which is loosely based on Giacomo Puccini's opera Madame Butterfly, will offer you spectacular visuals - breathtaking, opera-like music - perfect sound quality - live orchestra - and an all-star cast!

An extraordinary experience for everyone!
Prices: 1400, 2200, 2500, 4800, 5900, 7500, 10000, 12000 Ft